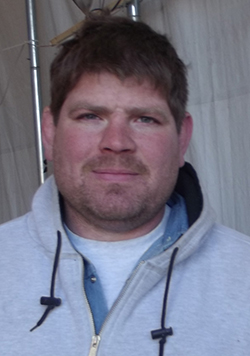 Brent Boeshans Owner and Installer "When the owner is doing the installation you know he is going to make it right."
Brent grew up on a dairy farm in North Dakota. He attended the U of MN on a Wrestling scholarship and earned his degree in Technology Education. He realized, through working construction during college, that all aspects of construction were where his passion lies. Stone, both natural and engineered was an area of construction that Brent felt offered the best opportunity for success. His physical size and strength was a natural fit for working with stone.  His goal, to be efficient and accurate in every installation.
Founded in 1999 Dynamic Edge has installed stone in a variety of projects: new homes, remodel and renovation projects, commercial rentals and condominiums, local business bar tops, showroom counters and bathroom vanities.
Check out the bar top at the Blue Door in St Paul or the displays at Sigma Beauty, MOA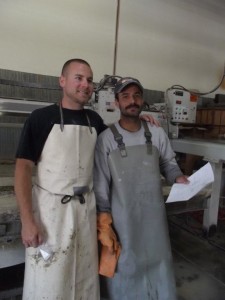 Juan and Dusty make up the fabrication team.  With 20+ years combined experience as stone fabricators.  Juan is a wiz at planning where each piece will fit on the slab to take advantage of the stones natural beauty.  Once the stone is cut then exposed edges are polished; often a 7 step process, using a finer diamond polishing pad with each step.  The beauty of the stone is revealed with the correct cut and polish.
Jim and Fritz, Installers Twin Cities
Jim and Fritz bring many years of installation experience to every job they work on.